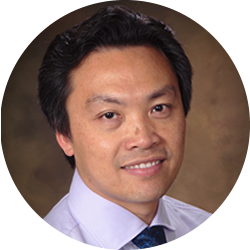 If you have been a patient at our Main office for a long time, chances are you have had the privilege of meeting Dr. Ly. He brings a calm demeanor and confidence to dentistry that our patients appreciate. He has been with our office since 2006 and I am pleased to tell you more about him.
1. When you were a child, what did you want to be when you grew up?
As a child, Dr. Ly strived to be a doctor. Interestingly, he left this childhood inclination in college and originally studied engineering, but didn't feel passionate about it. After conferring with a dental student, he decided to go into dentistry and returned to his childhood aspiration.
2. How long have you been a dentist and what do you enjoy most about your job?
Dr. Ly has been practicing dentistry for 10 years and his favorite aspect of being a dentist is communicating with his patients. He enjoys talking with them, helping solve their dental problems, explaining dentistry in an understandable way, and showing them how their dental health relates to their overall health. He finds it highly rewarding when he is able to surpass his patient's expectations.
3. What is something you wish all patients understood about dentists?
"We're not here to hurt you; we're here to help you." Dr. Ly discussed with me that dentistry is not just about teeth, it's a part of one's overall health and providing treatment to a patient requires understanding life style habits, a patient's history, and goals. Often patients have a natural fear of dental treatment, or a fear of being looked down upon for neglecting their health. This is of particular concern to Dr. Ly. He doesn't want anyone walking away from his dental chair feeling guilt about their dental health, and it's important to him for his patients to have a positive experience when they are here. He finds it very rewarding when a reluctant or fearful patient is able to perceive dentistry in a more positive light due to a higher quality treatment experience and a well-informed process. He highly values educating his patients about their treatment needs so that they are better able to understand their health, and how to meet their dental treatment needs and goals in a way that is best for them.
4. If you could choose anyone, who would you pick as your mentor and why?
Dr. Ly chose his parents. They are very hard working people and he admires them. What parent would not love to hear that!
5. What's your favorite indoor/outdoor activity? What is your definition of fun?
Dr. Ly loves to spend time with his family. They enjoy biking and playing games together. He also told me, "I love tinkering". He enjoys taking on various carpentry projects or fixing things. Even projects that could easily be hired out, he enjoys fixing himself. He also enjoys traveling and discovering the new things and tastes a destination has to offer, and is looking forward to a European Cruise.
6. What is something about you that others would find surprising or interesting?
"I'm a car fanatic; I'm a techy, but with more of an environmental spin". He drives a hybrid and describes himself as an environmentally conscious person. What I found to be the most surprising fact was that he didn't drive until college. In high school he used to walk about a mile and half to school and didn't desire a car. He went from being a walker to a car guy. College and a need to get around can do that to anyone.
7. What did you do growing up that got you into trouble?
Being that he is so approachable, I am not surprised to hear that he was an overall good kid. We chuckled about him receiving the perfect attendance award in High School for all four years. Now I'm starting to wonder if he has ever called in sick to work in the past 8 years???
If you are a patient of Wendel Family Dental Centre and Dr. Ly is your dentist, you already know why we value this tenured doctor. He has been a wonderful part of our practice and I'm confident you have enjoyed learning more about him.