What's Right for Me?
Several factors influence the performance, durability, longevity and cost of dental restorations. These factors include the patient's oral and general health, the components used in the filling material, where and how the filling is placed, and the chewing load that the tooth will have to bear. Each case is unique and your choice is best determined by consulting with your dentist.
Types of Dental Restorations
There are two types of dental restorations: direct and indirect.
Direct restorations are fillings placed immediately into a prepared cavity in a single visit. They include dental amalgam, resin ionomers and some resin composite fillings. The dentist prepares the tooth, places the filling and adjusts it during one appointment. Later adjustments may be necessary.
Indirect restorations generally require two or more visits. They include inlays, onlays, veneers, crowns and bridges fabricated with gold, base metal alloys, ceramics or composites. During the first visit, the dentist prepares the tooth and makes an impression of the area to be restored. The impression is sent to a dental laboratory, which creates the dental restoration. At the next appointment, usually two weeks later, the dentist cements the restoration into the prepared cavity and adjusts it as needed.
Diagnosis
Decay
Tooth decay is a destruction of the tooth enamel. It occurs when foods containing carbohydrates (sugars and starches) such as milk, pop, raisins, cakes or candy are frequently left on the teeth. Bacteria that live in the mouth thrive on these foods, producing acids. Over a period of time, these acids destroy tooth enamel, resulting in tooth decay.
You can help prevent tooth decay by following these tips:
Brush twice a day with fluoride toothpaste.
Clean between your teeth daily with floss or an interdental cleaner.
Eat nutritious and balanced meals and limit snacking.
Check with your dentist about use of supplemental fluoride, which strengthens your teeth, and about use of dental sealants (a plastic protective coating) applied to the chewing surfaces of the back teeth to protect them from decay.
Visit your dentist regularly for professional cleanings and oral examination.
Fillings Procedures
Amalgam (Silver) Fillings
Used by dentists for more than a century, dental amalgam is the most thoroughly researched and tested restorative material among all those in use. It is durable, easy to use, highly resistant to wear and relatively inexpensive in comparison to other materials. For those reasons, it remains a valued treatment option for dentists and their patients.
Dental amalgam is a stable alloy made by combining elemental mercury, silver, tin, copper and other metallic elements. Although dental amalgam continues to be a safe, commonly used restorative material, some concern has been raised because of its mercury content. However, the mercury in amalgam combines with other metals to render it stable and safe for use in filling teeth. The major U.S. and international scientific and health bodies, including the National Institutes of Health, the U.S. Public Health Service, the Centers for Disease Control and Prevention, the Food and Drug Administration and the World Health Organization, among others, have been satisfied that dental amalgam is a safe, reliable and effective restorative material.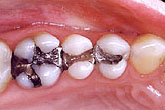 Because amalgam fillings can withstand very high chewing loads, they are particularly useful for restoring molars in the back of the mouth where chewing load is greatest. They are also useful in areas where a cavity preparation is difficult to keep dry during the filling replacement, such as in deep fillings below the gum line. Amalgam fillings, like other filling materials, are considered biocompatible—they are well tolerated by patients with only rare occurrences of allergic response.
Disadvantages of amalgam include possible short-term sensitivity to hot or cold after the filling is placed. The silver-colored filling is not as natural looking as one that is tooth-colored, especially when the restoration is near the front of the mouth, and shows when the patient laughs or speaks. And to prepare the tooth, the dentist may need to remove more tooth structure to accommodate an amalgam filling than for other types of fillings.
One advantage of amalgam fillings is that they are generally less expensive than white (composite) fillings. Composite fillings take about 60% longer, require special expertise and expensive materials, and are more difficult to place, so they cost more than silver. Dental insurance will generally not pick up this extra cost.
Amalgam fillings are easier to place in difficult areas. White fillings require that the site for the filling be kept isolated and completely dry. This is difficult to do in the back of the mouth for the duration of the procedure, and can be uncomfortable for some patients. A silver amalgam filling does not require this strict isolation of the tooth. Additionally, silver fillings have a longer history of use than mercury-free fillings, thus some feel that they are more tried and tested.
Resin Composite (White) Fillings
Thanks to advances in modern dental materials and techniques, dentists have more ways to create pleasing, natural-looking smiles. Dental researchers are continuing their often decades-long work developing materials, such as ceramics and polymer compounds that look more like natural teeth. As a result, dentists and patients today have several choices when it comes to selecting materials to repair missing, worn, damaged or decayed teeth. These new materials have not eliminated the usefulness of more traditional dental materials, such as gold, base metal alloys and dental amalgam. That's because the strength and durability of traditional dental materials continue to make them useful for situations, such as fillings in the back teeth where chewing forces are greatest.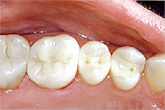 Composite fillings are a mixture of glass or quartz filler in a resin medium that produces a tooth-colored filling. They are sometimes referred to as composites or filled resins. Composite fillings provide good durability and resistance to fracture in small-to-mid size restorations that need to withstand moderate chewing pressure. Less tooth structure is removed when the dentist prepares the tooth, and this may result in a smaller filling than that of an amalgam. Composites can also be "bonded" or adhesively held in a cavity, often allowing the dentist to make a more conservative repair to the tooth.
Post Operative Instructions
Any time a tooth is prepared to receive a filling there is irritation to the nerve (pulp) of the tooth, the deeper the decay, the more the irritation. The dentist cannot predict how your tooth will respond to treatment. It is normal to experience some hot, cold and pressure sensitivity after your appointment. Injection sites may also be sore. Ibuprofen (Motrin), Tylenol or aspirin (one tablet every 4-6 hours as needed for pain) work well to alleviate the tenderness. If pressure sensitivity persists beyond a few days or if the sensitivity to hot or cold increases, it could be indicative of a problem with the nerve of the tooth, which would require additional treatment. Please contact our office if this occurs.
When an anesthetic has been used, your lips and tongue may be numb for several hours after the appointment. Avoid any chewing and hot beverages until the numbness has completely worn off. It is very easy to bite or burn your tongue or lip while you are numb. You may chew with your composite fillings as soon as the anesthetic completely wears off. We recommend that you avoid chewing on amalgam fillings as much as possible the first 24 hours as amalgam takes this additional time to fully harden.
If your bite feels uneven, if you have persistent pain, or if you have any other questions or concerns, please call our office at (360) 254-5254.